"It takes a lifetime for someone to discover Greece, but it only takes an instant to fall in love with her." Henry Miller was right. The land of sunshine is a unique mosaic consisting of big and smaller towns, villages, mountains, lakes and thousands of islands. Since you most probably can't spend a lifetime in Greece, we figured you would like to make the most out of your visit. Bringing a car with you will enable you to enjoy road trips and have a more authentic experience. However, depending where you are coming from and where you are going, this can result in endless hours of driving.
The best way to bring your car from Germany to Greece
Starting your journey from Berlin you will need approximately 22 h and 37 m to reach Athens. Drivers, though, need to follow specific rules for safe driving combined with maximum daily and fortnightly driving times and rest periods, so you will need at least a couple of days to arrive. And you will be exhausted. Plan your holidays and organize a road trip in Greece combined with a ferry trip on board Minoan Lines high-speed cruise ferries and enjoy services of high quality, comfort, as well as a fun and relaxing atmosphere.
From Ancona you can disembark at the ports of Igoumenitsa or Patras and embark on to the most amazing experience exploring the mainland, as both locations are great starting points for road trips.
We recommend visiting Greece for one or two weeks to make the most of it.
View of Old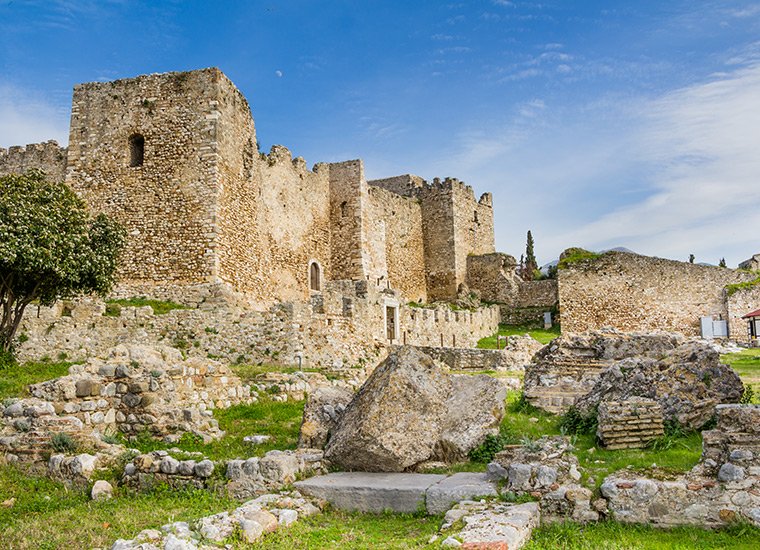 View of historic castle of Patras in Achaea
Road trip 1: Igoumenitsa – Meteora – Thessaloniki – Halkidiki
Starting from the port of Igoumenitsa you can set on a journey and a mission to discover Northern Greece's hidden gems. From geological phenomena, ancient relics and historical landmarks to sandy beaches, and picturesque villages this road trip has it all and more. On your way back, you can also visit the world famous island of Corfu, via Minoan Lines itineraries, and discover another Greek paradise.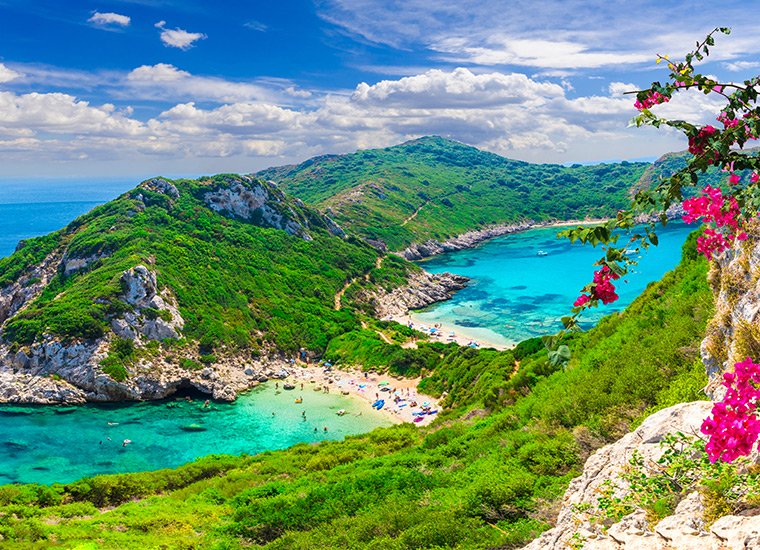 View of Porto Timoni, Corfu
See the detailed road trip itinerary here.
Road trip 2: Patras – Peloponnese - Athens
Starting from the port of Patras you will have the chance to explore the Peloponnese. Peloponnese is not only the biggest peninsula in Greece, it is also a land that has been inhabited since prehistoric times and the home of one of Europe's earliest civilizations, the Mycenaean civilization. Its diverse landscape, with mountains towering over the lacy coastline, offers a range of sights to see, beaches to explore and impressive nature to be enchanted by.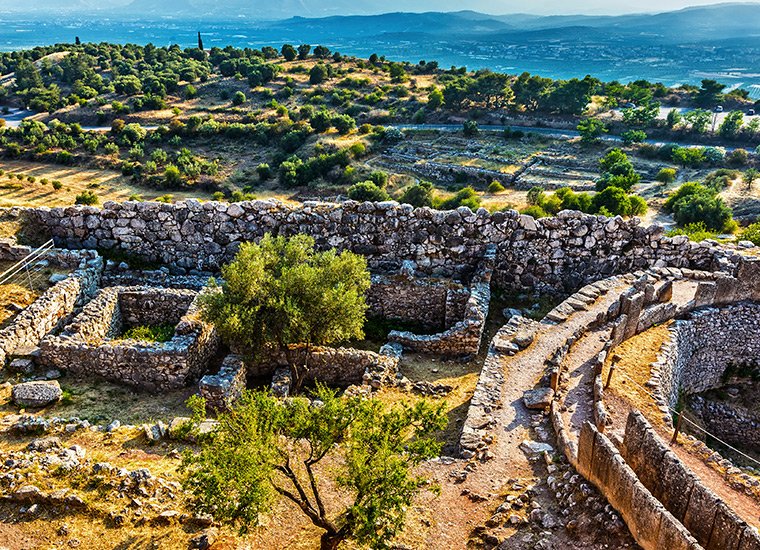 View of Mycenae Archeological Site
In the Peloponnese, the options are plenty. Explore our proposed road trip around the Peloponnese and plan your trip. Travelling with kids? See our suggestions for unforgettable vacations with kids in the Peloponnese.
You may also combine your visit to the Peloponnese, the mythical heart of Greece, with Athens, which is just a few hours away by car. Delve into the glory of history, the heart of ancient Athens by spending 48 hours in Athens.
Feel like having an island holiday to the most visited islands in Greece? Visit Crete and the Cyclades, from Piraeus (Attica's main port) on board Minoan Lines high-speed cruise ferries. Check our itineraries and book now!
Helpful Tips for Organizing a Trip to Greece by Car and Ferry
On the road:
Maps. The best maps for road tripping in Greece, according to other camper van enthusiasts, are the Road Editions maps and the Michelin Greece map.
Fuel. Unleaded and diesel is widely available at every gas station. Autogas is also available in certain areas and you will need the same adapter as used in France. You will be helped in almost all gas stations.
Roads. Greek roads are in a relatively good condition. Motorways are better than provincial or village roads. Also, the motorway signs are green in colour and the information is written in both Greek and Latin lettering. The blue signs refer to the main roads.
Tolls. Most of Greece's motorways have tolls and the prices vary depending on where you are. There are also provincial roads parallel to the motorways that will take you through villages and small towns, but they are not as comfortable for driving long hours.
Driving. Greeks drive on the right side and are very confident drivers- it's part of our DNA. Distances and speed are counted in km. The use of the horn is only allowed to prevent an accident from happening. All cars should carry a fire extinguisher, a warning triangle and a first aid kit. Drinking and driving are illegal. The legal limit is 50 mg of alcohol per 100ml of blood.
Seat Belt. Front and rear seat occupants should wear a seat belt. Children up to the age of 11 should be secured using appropriate child seat restraints.

Older children and adults should be wearing a secured seat belt.
About the Trip:
Book tickets online via ebooking.minoan.gr
FAQs: Find all answers to questions you might have regarding the trip here.
Travelling with a campervan: Find out more about the "Camping All Inclusive" Service and how to plan your trip, here.
Become a Bonus Club Member: Join for free here and enjoy exclusive benefits.
Offers: Benefit from the EARLY BOOKING 15% offer available for a limited time. Combine it with other available offers and score a better deal.
We are looking forward to welcoming you soon on board.