This is it. You are about to disembark in Patras and it's summertime. Prepare yourself to be sunkissed, embraced by the seawater and cherished by the salt and sand on your skin. Greece's beaches are famous not by chance - visitors leave them in a state of ecstatic freedom. So, are you ready?
Travelling from Italy to Patras and you are not sure how to make the most out of your stay in Greece? The Cyclades, where island hopping is a must, Crete, that is a four-season destination and Athens, the historic capital, are amongst the most popular choices. But Greece is a destination that has so many more experiences to offer. You'll realize that as soon as you disembark Minoan Lines High speed Cruise Ferries in the port of Patras.
Located in the mythical Peloponnese, the port of Patras can be the starting point for the most amazing vacations in Greece. Apart from its rich history – it is the place where Helen of Troy and Paris eloped and where Hercules fought the Nemean Lion- the Peloponnese is also known for its amazing seaside resorts, one can visit by car, campervan or motorbike.
Many hidden gems are waiting to be found. So, wait no more!
Delve into the following content and discover your own hidden beach paradise, only a few kilometers away from the Port of Patras.
Kalogria Beach (43.2 km)
Kalogria Beach is one of the most famous beaches in West Mani as you can enjoy your swim surrounded by the Strofylia pine tree forest, which extends in 20.000 acres along the beach.
The green color of the pine trees is reflected on the crystal-clear water of the sea and the white sand gives this beach an exotic vibe. The water is shallow giving you the impression that you are swimming in the most beautiful swimming pool. Since the beach is organized in most parts, you can rent your own umbrella and sunbeds and not worry about bringing your own gear.
Prepare to spend the whole day there as there are plenty of bars, restaurants and activities to cater to your needs.
Tip: If this is not the perfect background for Instagram worthy pictures and relaxing holidays, then what is?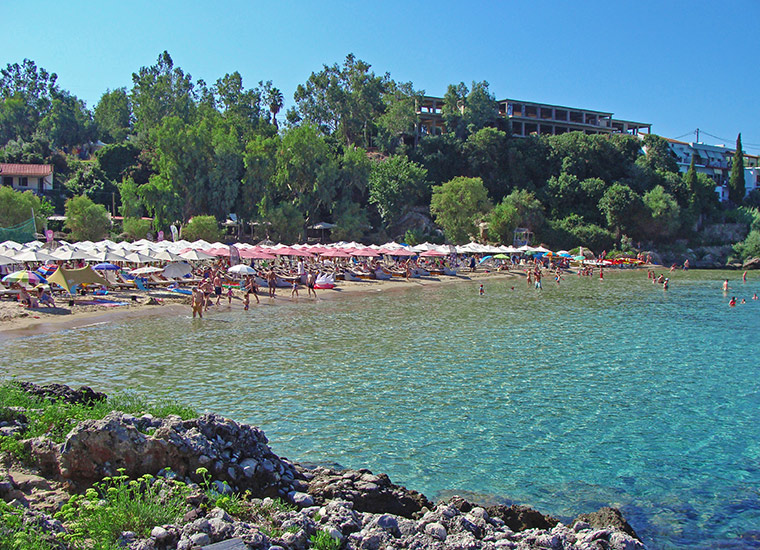 Voidokilia Beach (196 km)
Voidokilia Beach is possibly the most renowned beach in Messinia and one of the most beautiful locations in Greece. Its remote location means that you can truly relax and enjoy the beauty of nature, as the beach offers no organized activities.
Bring your own umbrella and snacks and arrive early to find the perfect spot where you can lie down and enjoy the views of Palaiokastro and the old tomb. Rumour has it that visitors forget to leave from this dreamy location, so don't make plans for the evening!
Tip: Avoid visiting during August as it can be crowded.
Tolo Beach (199 km)
Tolo Beach is another beach worth visiting. Like most beaches in Greece, it is also covered in sand and the water is crystal clear, blue-colored and warm. Another feature that is appreciated by visitors is the fact that the restaurants offer tables near the beach. This means you can enjoy your swim and then indulge in some local dishes. The Peloponnese is also famous for its culinary heritage!
This beach is definitely a family-friendly option!
Tip: While you are in the area, don't miss the chance to visit Kardamyli, the diamond of Messinian Mani. A picturesque town that will steal your heart and make you promise you'll come back.
Mavrovouni Beach (317 km)
Moving further towards the south, you will stumble upon the beauty called Mavrovouni Beach. Prepare to be amazed by its long sandy beach that is almost 5 km long!
This large sandy beach with turquoise water is ideal for high-season months as it never feels crowded. And the activities there are endless. You will find camping spots, organized spots, rooms for rent etc.
Stay till the evening, as there are a lot of bars in the area where you can have a drink and enjoy the vibe.
Tip: Don't miss the chance to visit Gythio, the most photographed port town of Laconia. It is built amphitheatrically and offers its visitors the most amazing views and endless possibilities for breathtaking photos.
Source: peloponnesetour.com
Simos Beach (380 km)
This one is a clear favorite for both locals and tourists. Simos Beach is in Elafonissos, a paradise on earth. Upon arrival, you will feel as if you woke up in a dream! The thin white sand will hug your toes and the crystal blue waters will seem very inviting, especially on a hot summer day.
This beach is ideal for campers with tents or camper vans. If you are thinking about bringing your campervan along, then learn how to plan your trip with a camper van and find out Minoan Lines exclusive offer for camper vans.
Of course, there are plenty more beaches and places to stop during your road trip, so do as you please! Just make sure you make the most out of your trip and have a good time. Besides, travelling with Minoan Lines is an extraordinary experience on its own.