Greece is always a good idea. Even more so, when you can explore its beautiful locations and surroundings with the freedom that your camper van gives you. Even if you have been to Greece before, this will be a completely new experience!
Plan ahead, book early, pack light, make sure your camper van is good to go and that you bring with you all the essentials and delve in all the useful information that follows.
When is the best time to travel to Greece with a camper van?
Greece is beautiful all year round. It is more crowded during summer, but it is not something you should stress about. During the autumn and winter, you will be able to explore the northern parts of Greece in all their glory. Mountains, breathtaking views, wild nature and the smell of fireplaces.
Road trip around the Peloponnese
During Spring and Summer, you will be able to catch all this vitamin D you are currently missing and maybe a tan. The blue sea, the bright sun, the picturesque sunsets can set the scene for the perfect vacation, with a company or alone!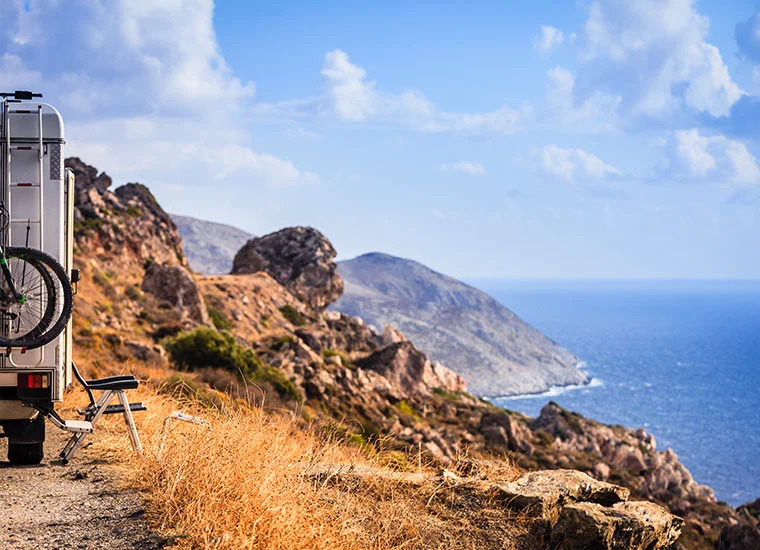 Things you should know when travelling to Greece with a camper van:
Maps. The best maps for road tripping in Greece, according to other camper van enthusiasts, are the Road Editions maps and the Michelin Greece map.
Fuel. Unleaded and diesel is widely available at every gas station. Autogas is also available in certain areas and you will need the same adapter as used in France. You will be helped in almost all gas stations.
Roads. Greek roads are in a relatively good condition. Motorways are better than provincial or village roads. Also, the motorway signs are green in colour and the information is written in both Greek and Latin lettering. The blue signs refer to the main roads.
Tolls. Most of Greece's motorways have tolls and the prices vary depending on where you are. There are also provincial roads parallel to the motorways that will take you through villages and small towns, but they are not as comfortable for driving long hours.
Driving. Greeks drive on the right side and are very confident drivers- it's part of our DNA. Distances and speed are counted in km. The use of the horn is only allowed to prevent an accident from happening. All cars should carry a fire extinguisher, a warning triangle and a first aid kit. Drinking and driving are illegal. The legal limit is 50 mg of alcohol per 100ml of blood.
Seatbelt. Front and rear seat occupants should wear a seat belt. Children up to the age of 11 must use a suitable seat restraint. Older children and adults can wear a belt.
Campsites. Although not widely spread, you can find several campsites in Greece for motorhomes, camper vans and caravans that offer the necessary facilities. We would suggest you do your research in advance.
Wild camping. Although it is prohibited in Greece, you 'll see many fellow campers do it.
Communication. The signal is good in Greece in almost all locations. The area code for incoming calls is 0030 and the emergency number for the EU is 112.
Money. The Greek currency is Euro. In most places, you will be able to pay by card, but in small villages and local shops, you might be asked to pay in cash.
Supermarkets. Supermarkets are open Mon-Sat in Greece. On Sundays, you can do your shopping in local mini markets and kiosks.
Benefit from Minoan Lines' "Camping all-inclusive" offer
The "Camping All Inclusive" offer is available all year, for bookings made for the Adriatic Routes (Italy - Greece), and you can enjoy:
garage space for your camper or caravan
power supply
accommodation in an internal cabin, as staying in your camper van is prohibited during the trip
30% discount on all meals and drinks served at the "à la carte" and self-service restaurants during the voyage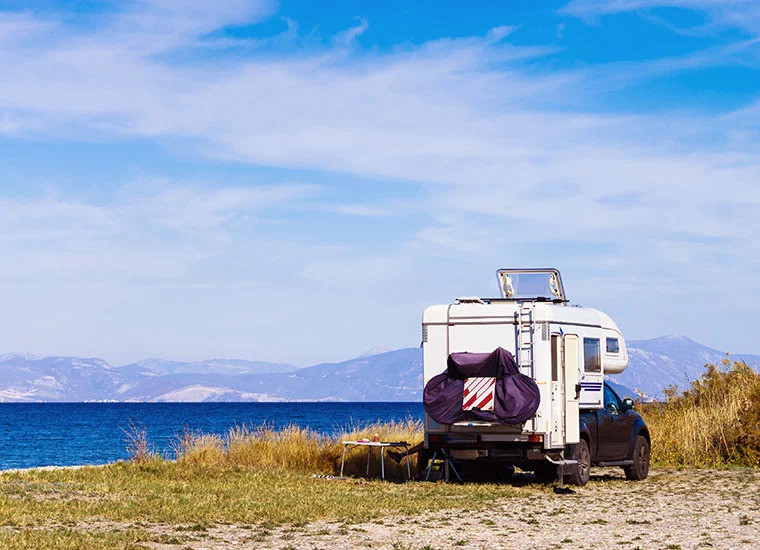 Why wait? Book now! Added bonus: you'll get to experience travelling with Minoan Lines ultramodern vessels. A real treat!