Travelling via ferry and car to Greece via the Ancona - Igoumenitsa itinerary has a lot of perks! Aside from the extraordinary experience Minoan Lines offers you on board you get the chance as soon as you arrive to set of a once in a lifetime experience: a road trip to Northern Greece.
Igoumenitsa - Meteora - Kastraki - Kalambaka
2h 20m (170 km)
By the time you arrive at the port of Igoumenitsa with Minoan Lines' high-speed cruise ferries you will be well-rested and ready to take on a rather unique adventure exploring Northern Greece. First stop: Meteora, a geological phenomenon located in Thessaly that has been declared a UNESCO World Heritage Site and attracts tourists from all over the world.
It is located 166 km away from Igoumenitsa so you will arrive at your destination in approximately 2 hours.
Visiting Meteora is a once in a lifetime experience! This unique, inviolated and immutable natural monument consists of a complexion of giant rock monoliths that rise approximately 400 m high from the flat valley north of the city of Kalambaka. The mystery behind how those pillars were formed remains unsolved until this day. The most prevalent theory is that the giant pillars were initially formed by large masses of mud, sand and river pebbles and were later on carved by natural phenomena. At the pillar's top, you'll count 24 monasteries built by monks by 1500 AC balancing off the cliff, as if they are suspended in space.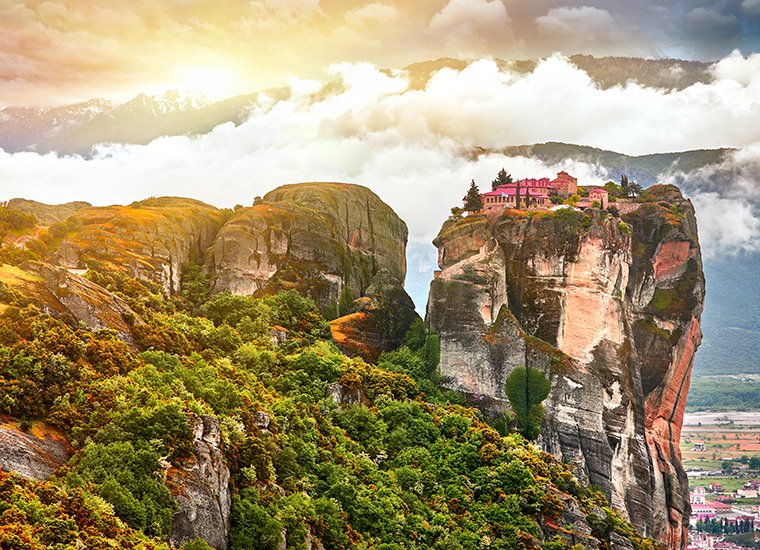 From the initial 24 monasteries only 6 are still operating and these are: Agios Nikolaos Anapafsa, Metamorphosis tou Sotiros, Varlaam, Roussanos, Agia Triada and Agios Stefanos. The monasteries are located close to each other meaning that they are easily accessible.

If you like adventures, then you'll be glad to know that the traditional way to visit Meteora is not via road but via rock climbing. The view is unimaginable as well as the experience. There are also hiking trails you could follow if you want to get closer to nature.

Leaving Meteora will be tough. But, have your eyes open as many surprises will pop up while you climb down the hill. The picturesque village of Kastraki, nestled among the giant rocks, is exactly what you need in order to rest, dine, refuel and let all this beautiful scenery you just experienced sink in. Stroll along its narrow alleys with the traditional homes, hotels and tavernas and make sure to go to the quaint district of Adrachti. There is a small but spectacular rock, the top spot for rock climbers.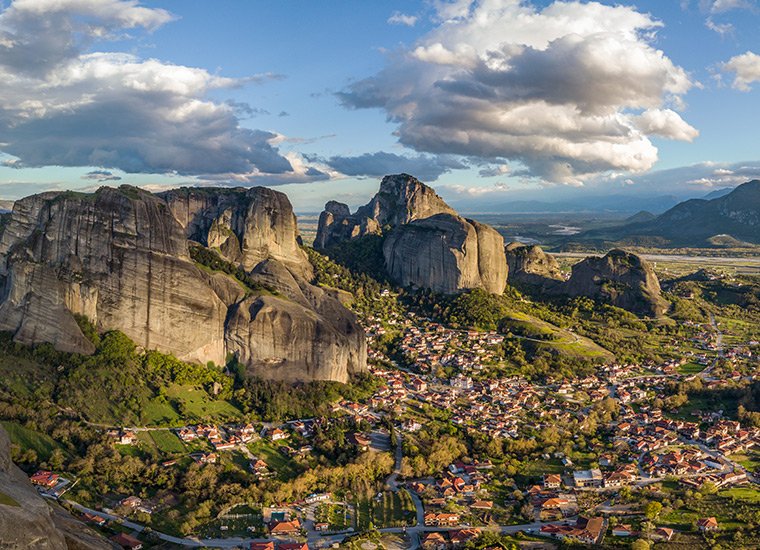 Another option for accommodation and dining is Kalambaka. As the main city in the area, Kalambaka will cater to your needs. While there, walk in the renovated old town, called Spotos and visit Greece's only woodworking school.
Kalambaka - Vergina - Thessaloniki
2h 58m (238 km)
On your way to Thessaloniki we recommend you stop at Vergina, where the first capital of Macedonia used to be. Grab a lunch, local delicacies such as smoked cheeses and varieties of meat will fill you up. Be sure to visit the site of ancient Aigai, a UNESCO World Heritage Site and the tomb of Philip II, father of Alexander the Great.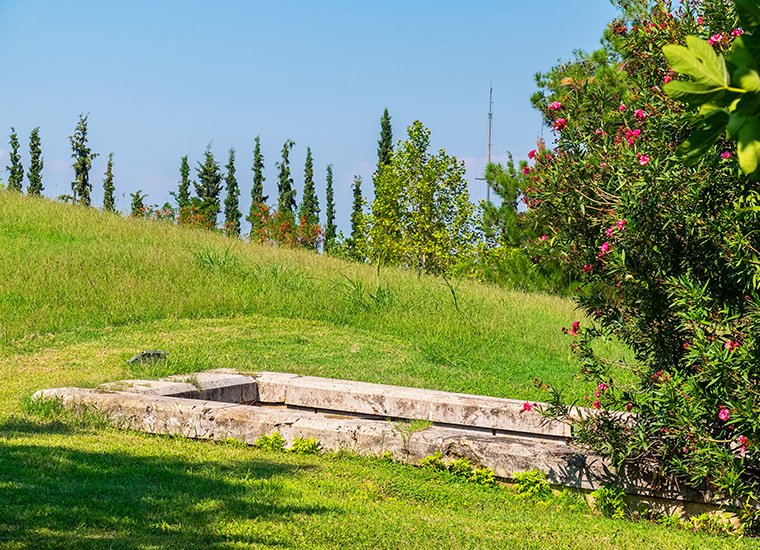 Before you know it, in just 75 kms, you will be welcomed by Thessaloniki, the Nymph of the Thermaikos Gulf. As the second-largest city in Greece and a mosaic of different cultures and civilizations Thessaloniki has a lot to offer in terms of history, culture, gastronomy and entertainment.

Thessaloniki by night is a great way for you to meet with the locals and get the town's vibe. And because as we say in Greece 'A starving bear cannot dance' we recommend you start off with dinner. Thessaloniki's most famous savory dishes are gyros, souvlaki and bougatsa (filo pastry with cheese). Be sure to finish off your meal with a sweet bougatsa, tsoureki or the world-known trigona Panoramatos (triangle filo pastry filled with custard cream).
The heart of Thessaloniki's nightlife beats in the areas of Ladadika, Tsinari and Athonos square.

The next day start by visiting Agia Sophia, one of the oldest Byzantine Churches and then head on to see the Arch of Galerias and the Roman Rotunda. Of course, a walk down the promenade that leads to the White Tower, built by the Ottomans to guard the waterfronts, is a must-do when in Thessaloniki.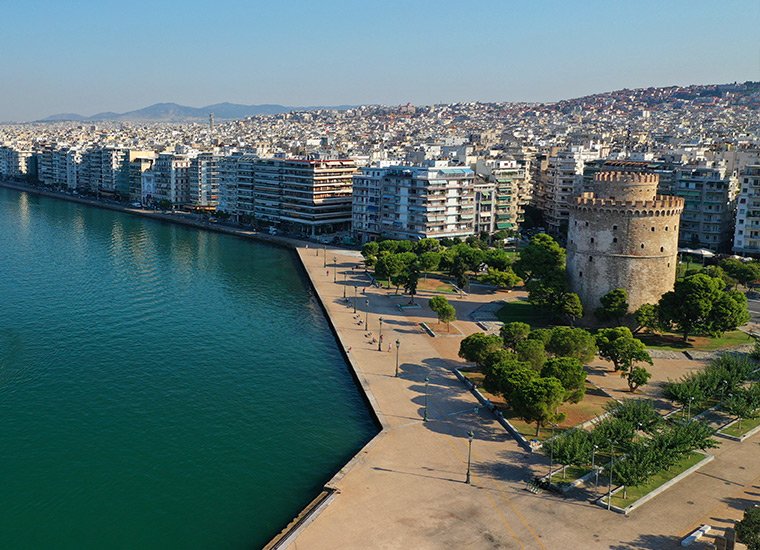 You can visit the museum inside the 34 m tall tower and don't forget to gaze at the wonderful views of the Aegean sea. For more historical and cultural trips, you can also visit the Museum of Byzantine Culture and the Archaeological Museum. For a pit stop choose a spot near Aristotelous Square or Navarinou square, where a lot of shops and cafes are located, and enjoy the city's vibes. Also, if you have the time a visit to Ano Poli, the highest point of the city, will help you get a better understanding of the city's identity. For a shopping spree, go to Tsimiski avenue to find everything your heart desires.
Thessaloniki - Halkidiki (Petralona Cave - Ancient Olynthos - Taxiarchis - Arnaia - Aristotle's Park)
3h 10m (160 km)
Locals say that "there is no other place like Halkidiki" and you will soon find out why. Halkidiki consists of a mainland and 3 peninsulas: Kassandra, Sithonia and Athos. The first two are top holiday destinations for both tourists and locals and the third is home to the famous monastic state of Mount Athos were women are not allowed.
You can start your journey from the Petralona Cave, one of the most beautiful caves in Europe. Sparkling stalactites and impressive dwarf stalagmites are some of nature's masterpieces that will catch your eye. But the story behind this 700.000 years old cave is even more impressive. The cave hid the skull of an Archanthropus.
Next stop, another great historical landmark: Ancient Olynthos. Here you will get to see up-close the famous Hippodamian grid plan, that until today is the foundation of town planning.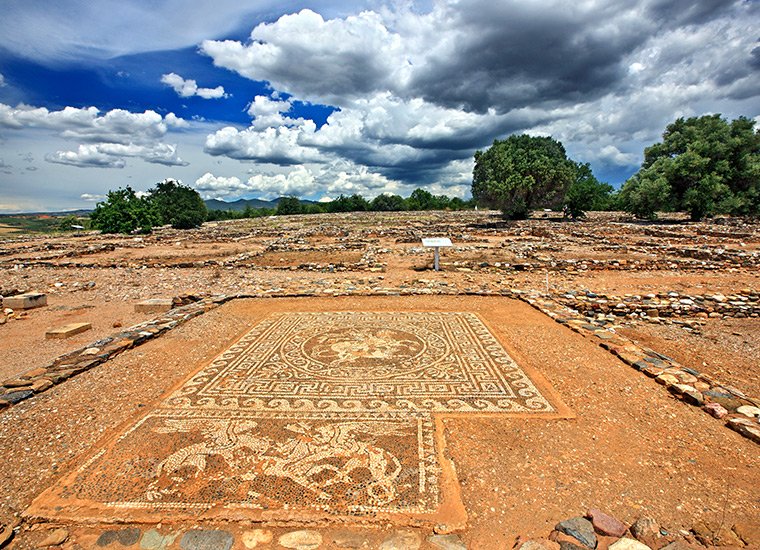 Take a break from the trip to history and visit Taxiarchis village, to see where local families grow fir trees and the traditional village of Arnaia, built amphitheatrically at the foothills of Mount Holomonta, at 600 meters altitude.
You can't say you've seen it all if you don't visit Ancient Stagria, Aristotle's birthplace and the famous Aristotle Park that is only 20 minutes away from Arnaia. The park hosts a compass, pendulum and prism, the tools Aristotle used in his famous work.
Now you've seen the area's most important landmarks you can sit back and enjoy what Halkidiki has to offer: a five-star experience! From casinos to marinas, world-class spas and 5-star hospitality there are a lot of businesses operating in the area that can cater to your needs.
Plus, the sandy beaches with turquoise waters such as Kavourotripes, Mikro (small) and Megalo (large) Karidi, Kalogria, Kriopigi, Agios Mamas, Sani will steal your heart.
Last but not least, visiting a Greek island, especially during the summer months is a must when visiting Greece. Corfu is an excellent choice on your way back to Ancona, via one of Minoan Lines' itineraries.
Looking forward to your next holidays in Greece? It's not early. It is time for you to take action and take advantage of our limited time offer EARLY BOOKING 20%.