For the past weeks we have been Staying Home to protect ourselves, our loved ones, the elder and vulnerable groups and help scale-down the coronavirus outbreak.
How are ferry trips affected?
Following the government directives against the coronavirus COVID-19 spread, the transportation of passengers and private vehicles to and from Italy has been suspended (except for trucks and cargo).
Also, with regards to the domestic trips, ONLY permanent island residents are permitted to travel to the islands by ferry. All operating itineraries in place refer to permanent residents, only when travel is necessary, cargo drivers and suppliers for the replenishment of islands, as well as those who wish to return to the mainland.
According to the latest COVID-19 guidelines announced by the Greek Authorities for the prevention of the new coronavirus transmission and spread, it is mandatory for all passengers to complete the "Pre-boarding Health Declaration Form" and submit it to the vessel's Chief Purser along with their ticket, when boarding, prior to the vessel's departure. Boarding will not be allowed if the form hasn't been completed and submitted. You can download the form here.
So, if there is a need to travel within the next days, we would like to inform you that at Minoan Lines we have applied all precautionary measures in order to contribute to the elimination of the coronavirus COVID-19 outbreak and ensure the health and safety of our passengers, our associates and our people on board and ashore.
Hygene and Prevention Measures On Board Our Fleet
As the safety of our passengers and partners is our top priority, a series of precautionary measures have been adopted to minimize the spread of COVID-19. Specifically:

We intensified the cleaning and disinfection activities of cabins and common areas in our vessels, in collaboration with specialized disinfection and cleaning companies, in addition to the regular daily hygiene and cleaning procedures.
We strictly adopt all precautionary measures for the operation of restaurants, bars and stores on board our vessels, in accordance with the latest instructions/provisions of the Greek Government.
The operation of our stores (except the kiosk) and of all a la carte restaurants as well as serving by the bars on board has been suspended.
Bars and lounges will operate strictly by following precautionary actions and guidelines in regards to prohibitive measures of non-crowding.
We constantly inform our officers and crew members so that they can be fully compliant with the latest precautionary measures (applied for the health, hygiene and safety of themselves but also our passengers) and to be able to manage emergencies in case someone develops symptoms that can be attributed to COVID-19 coronavirus infection.
Hygiene and Prevention Measures At Our Offices And Central Agencies
Always having as our top priority, the health and safety of our passengers, our business partners and staff, we have proceeded to the adoption of precautionary measures in accordance with the guidelines of the Hellenic National Public Health Organization and the designated authorities against the spread of COVID-19 coronavirus. Specifically:
We adopted remote work for the majority of our executives as well as telecommuting and videoconferencing.
We temporarily suspended the operation of our headquarters and retained the operation of our port offices to provide our services to our passengers and associates.
We intensified the precautionary measures of safety and hygiene and we provided every employee at our port offices with antiseptics, masks and gloves.
We are in constant communication with the official authorities to make sure we are always aligned with the latest official guidelines in order to inform our personnel accordingly.
We keep our company's executives up to date on preventive and protective measures, following the guidelines of the Hellenic National Public Health Organization.
We have placed a special marking at least one meter away from the point of sale (agency counter), to strictly observe the safety distance between agency employees and/or the passenger public/transportation partners, during waiting service period. And we posted informative material for every trading passenger or business partner to follow the security and safety measures while waiting at the agency.
Advice for Travelers
In Greece, the risk for travelers is considered high according to the National Public Health Organization. Thus, it is recommended that travelers avoid nonessential travel to areas with presumed ongoing community transmission of COVID-19. Also, it is advised that all travelers contact the National Public Health Organization (1135, 210-5212054) for an update regarding the state of the pandemic and the necessary precautionary measures, prior and after their trip. After their return from any location all travelers are subject to mandatory home restrain for 14 days.
Since the pandemic is a global phenomenon that is still evolving, please keep in mind that the following advice is subject to change on the date of travel. If traveling is necessary, you can always visit the WHO's official site or contact your National Public Health Organization, for any updates regarding the evolution of the pandemic and the updated precautionary measures in your country of residence.
Greece's National Public Health Organization has published the following advice:
If you are travelling to areas with presumed ongoing community transmission of COVID-19 you should:
Wash your hands regularly with soap and water or a disinfectant, especially after coughing or sneezing, before handling and consuming food.
Avoid contact with animals (dead or alive), meat markets and meat products (such as raw meat).
Avoid visiting live bird and animal markets.
Avoid contact with patients who appear ill with respiratory symptoms.

During your stay in areas with presumed ongoing community transmission of COVID-19 you should:
Postpone your trip if you have fever and/or respiratory symptoms such as cough or shortness of breath.
Cover your mouth and nose with a tissue or with your elbow (not with your hands) when you cough or sneeze.
Avoid contact with other people if you have fever and/or respiratory symptoms such as cough or shortness of breath.
See below some advice on staying healthy while traveling from the International Chamber of Shipping: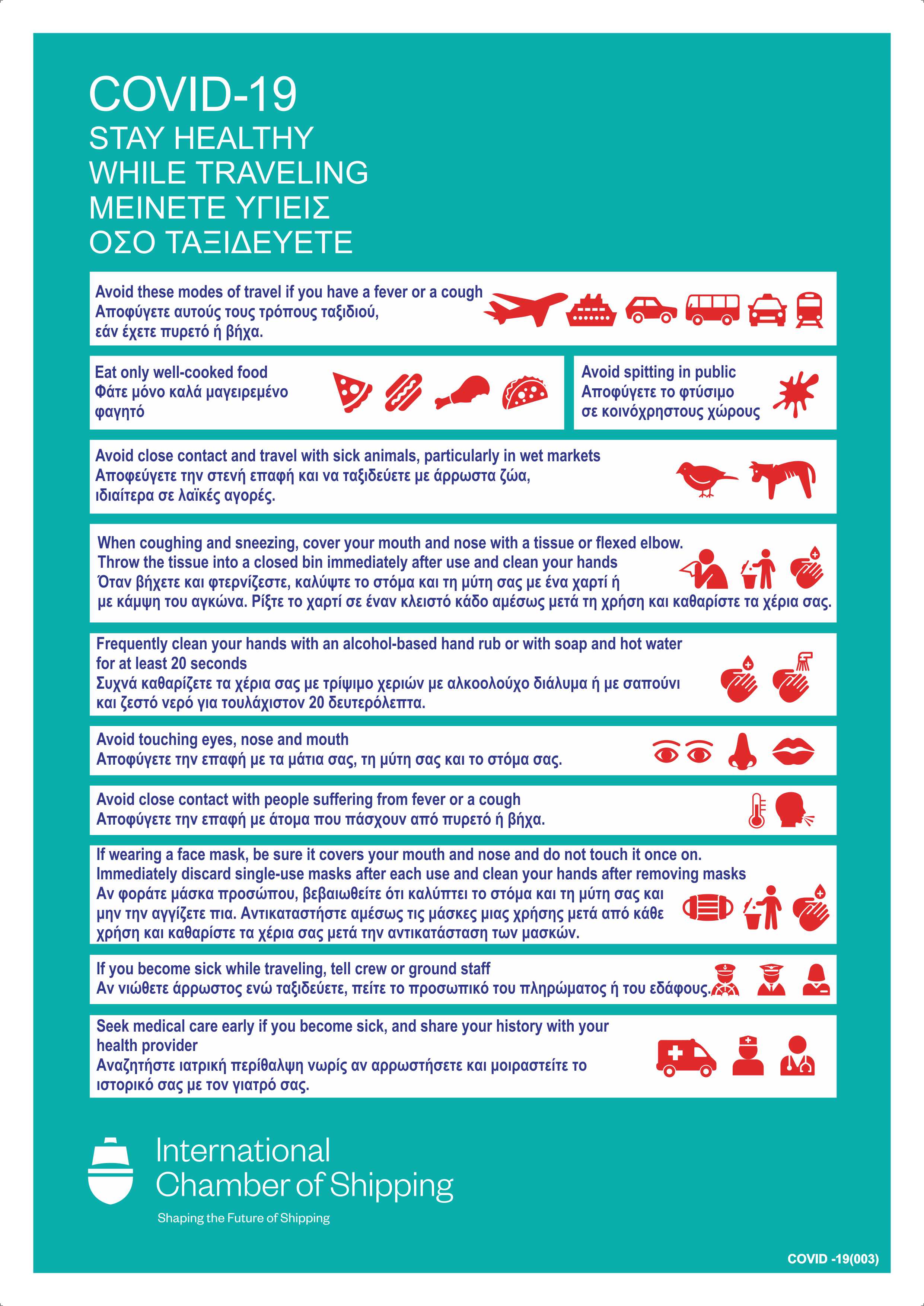 Finally, get an in depth update of all the precautionary measures we apply with punctuality and strictness to ensure the health and safety of the community, against the coronavirus COVID-19 outbreak, and also all necessary information regarding the still effective itineraries and rebooking policies, here.
Together, we will come out of this stronger than ever before!