"My beautiful island Crete, the key to paradise". The lyrics from this popular folk song could not be more accurate. No matter the season you visit this blessed island you will feel like you've unlocked your own, personal paradise.

Crete is generally known for its picturesque beauty, the sandy beaches, the historical landmarks and the plethora of alternative activities one can enjoy. Being the largest island in the Mediterranean, Crete offers every traveller unique and tailor-made experiences. This is part of the island's charm and what makes tourists keep coming back for more. Crete is hard to resist and now you know why!

Let us help you unlock your own special paradise the next time you visit Crete, by giving you an overview of the activities you can enjoy if you want to have a rather different experience.
1. Off-road adventures
Do you love the sense of freedom an off-road adventure offers? Crete's morphology is perfect for driving off the main roads and into steep slopes and dirt tracks. Imagine doing so by crossing over mountains and breathtaking natural formations only to find yourselves at the most picturesque villages.

Be aware! Crete's rough landscape together with the calming blue of the Mediterranean sea can get you carried away. So, remember to keep your eyes on the road and make frequent stops to admire the magnificent views.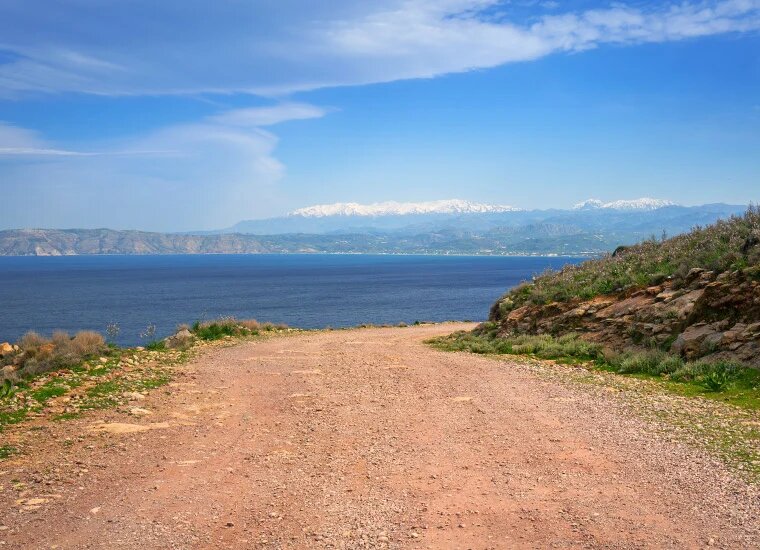 2. Hiking across lakes and gorges
Can you imagine a better way to explore Crete's natural habitat from walking off tracks and visiting secluded places not reached by car? Follow one of many hiking routes that will lead you to the most exciting adventure full of cultural, natural and historical sites. The E4 European Long Distance Path crosses the island from Kissamos to Zakros.
While walking past the Lefka Ori, Kedros, Ida Range and Dikti you will get to see Crete's rich landscapes and if you are lucky to meet some unique animal species that only live and breed on the island.

The famous Samaria Gorge, for example, an 18 km National Park that is being inhabited by various animal and bird species, such as the famous Cretan Kri Kri goat. The access to the canyon is rather easy, so don't be afraid even if you're not the most athletic type! If you are visiting from 1st May until 15th October, you should add this activity to your list.
On the other side of the island, you'll find the Route of Psiloritis. An easy trail, almost 3km long, which leads to the highest peak of mountain Psiloritis where the small church of "Timios Stavros" stands. Once you've reached the top, rest and enjoy the view that will definitely take your breath away.
If you want to combine hiking and swimming, another very popular trail is that of the Agiofarago canyon. Walking the trail is fairly easy, and after approximately 25 minutes of hiking, when you've reached the other side you will be welcomed by a much-needed surprise: one of the most secluded and beautiful beaches on the island.
3. Camping
Camping is another way to explore a new destination, as nothing can compare to falling asleep and waking up next to the sea. You will be glad to know that the island hosts several organized camping spots where you can stay or visit with your camper van. Some of the most popular destinations for campers are Agia Galini, in the Southern part of Crete, Drapanias which is located in Chania and Matala - yes, the famous hippie beach!
4. Skiing
Most tourists are unaware that Crete offers an array of snow-covered slopes ideal for skiing and other winter sports like snow kite and ski mountaineering (an activity involving skiing and trekking). In the white tops of the Lefka Ori, Psiloritis and Dikti you'll find most of the skiers and ski mountaineers enjoying their activities.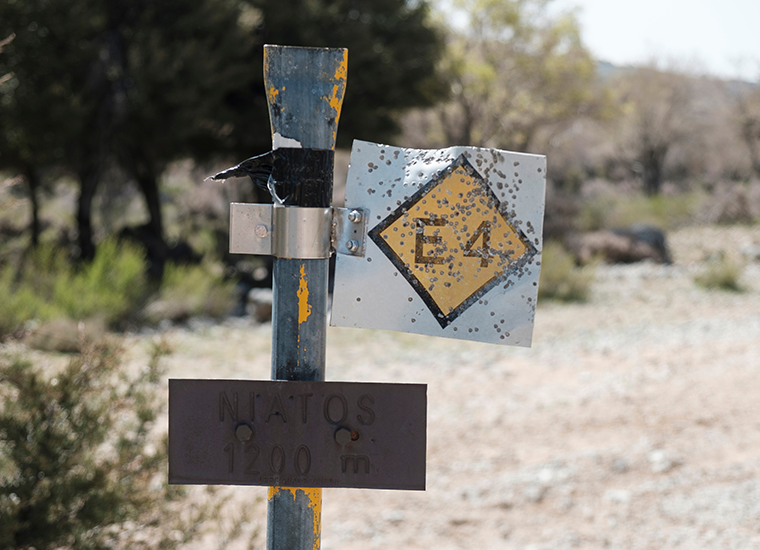 5. Cycling
Exploring Crete by bike is an unforgettable experience. Also, you get to exercise and burn some of those calories (Cretan food is irresistible!)
If you prefer to cycle around the city in asphalt paved-roads then the route that starts from the center of Heraklion, will offer you a bike ride overlooking the sea. The route starting from the port will take you to Gouves, while the one starting from the airport will get you to the famous landmark, Koules, located at the port of Heraklion. The third and farthest route you can enjoy by bike in Heraklion is the one starting from the famous Pancretan Stadium or Amoudara in the Gazi area.
Taking Chania as a starting point and following the signs towards Therisso, you can set off for an amazing adventure following the route of Ligides - Agia - Kirtomado. The lake of Agia (NATURA 2000), home to hundreds of migrating bird species and the traditional village of Kirtomado are some of the route's highlights.
If you'd rather go off road with your mountain bike then, as mentioned before, the island's rough terrain is very welcoming. There are plenty of cycling routes that lead to the mountains.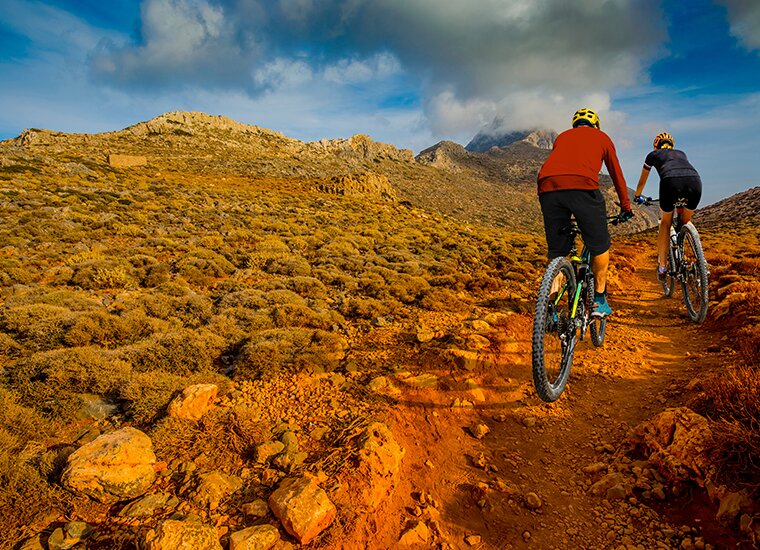 6. Wine tourism
Crete already counts more than 4,000 years of viticulture and is known for its wine tradition. In particular, Heraklion is the heart of the Cretan vineyard and contains three designation zones: Peza, Archanes and Daphnes.
If you like good wine, you can visit Crete and have a rather unique experience following the Cretan wine routes. During your trip, you will get to see traditional and modern wineries, where you will be able to taste flavors that will elaborate your tasting palette.
Some of the island's most distinctive varieties to look for are Liatiko (red), Mandilari (red), Kotsifali (red), Vilana (white), Daphni (white), Plitto (white), Malvasia di Candia (white) and Vidiano (white).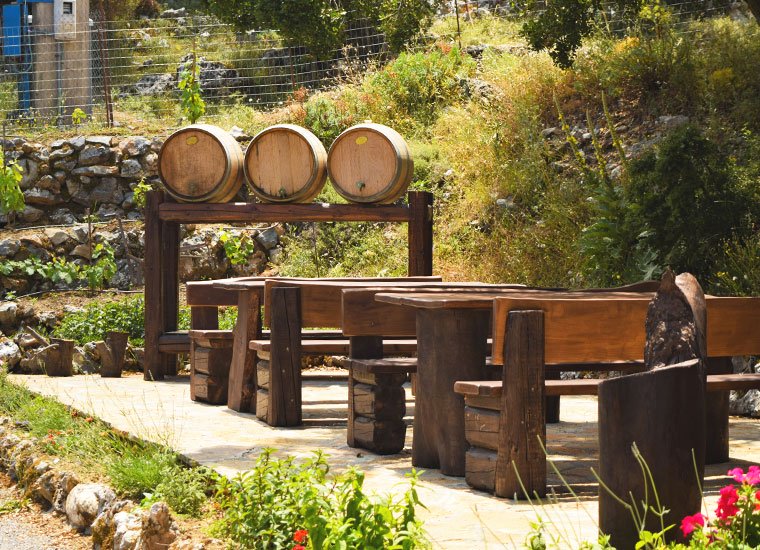 Although Heraklion has a great tradition in wine making the craft is not exclusive to one region. Click here to learn more about the history of wine in Crete and locate wineries close to your location.
Tempted? Book your trip to Crete and experience a truly unique experience!