Each different, each majestic… The Ionian islands are true wonders that welcome hundreds of visitors each year and are famous the world over for their combination of magnificent beaches and verdant nature.
Discover the treasures of Corfu, Lefkada and Kefalonia on your bike by following the tours suggested below:
Corfu
The mythical land of Corfu holds many surprises and secrets to uncover! Get your bike ready and head west, starting from the quiet village of Agios Markos, where you can visit two churches, Christ Pantocrator and Agios Merkourios that respectively date back to the 16th and the 11th century. Your next stop is the village of Lakones, situated in the midst of an olive grove. Right outside Lakones, you will find Bella Vista, a natural balcony with a majestic view of Paleokastritsa. Next, it's time to see this natural wonder up close and let the green and blue palette of the scenery soothe you. Also, keep an eye out for a big rock out at sea: according to Greek myths, it is the petrified ship of Ulysses! Your tour can end at Kaiser Throne, an observatory where you can marvel at some of the best sunsets in Greece, followed by a well-deserved dinner at the nearby mountain village of Pelekas.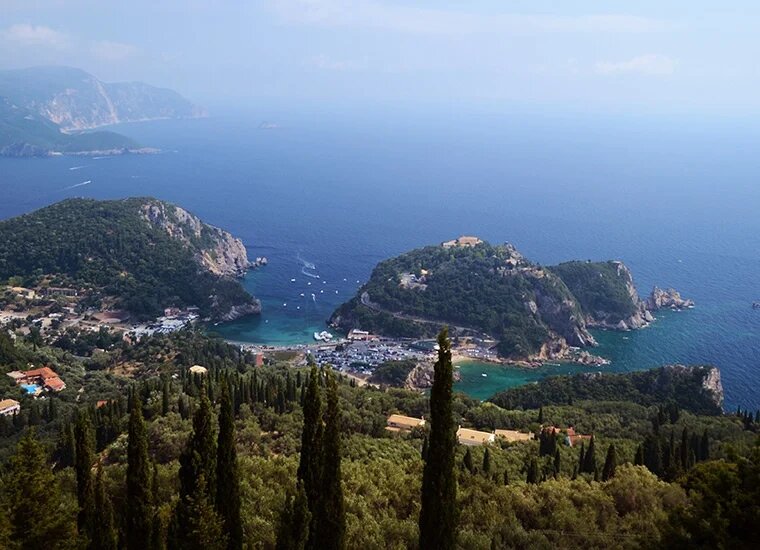 The view of Paleokastritsa from Bella Vista, Corfu
Lefkada
A slice of the Caribbean in Greece, Lefkada is the ultimate destination for beach-hopping! With the town of Lefkada as your starting point, head northwest and make your first stop for a traditional Greek coffee at the green village of Tsoukalades. Once you leave the village behind, the surrounding nature will contrast harmoniously with the various shades of blue as you reach Pefkoulia beach. After a refreshing swim, follow the signs pointing towards the popular seaside village of Agios Nikitas, with its several tavernas where you can enjoy a hearty meal. Now, all the roads will be leading towards the famous beach of Kathisma, a sight that will take your breath away. Spend all afternoon lounging at the beach or playing with the waves and as twilight starts to fall, drive towards the picturesque village of Chortata, for a refreshing beverage at its central square.
Kefalonia