The city of Heraklion is perfect for any type of getaway. In its modern city center, you'll find everything that your heart desires, from top-sights to modern shops, restaurants, cafes etc. and when you cross the city's boundaries you will find yourself strolling along the most picturesque villages or swimming in some paradise-like beaches. Also, when you feel like you have explored everything there is to explore - although hard- you can always travel across the island or even visit another island!
How is that possible, you may ask. Well, with Minoan Lines' Heraklion - Cyclades itinerary it is not only possible but easy too. The one minute you hop on the highspeed SANTORINI PALACE and the next you hop off the port of Athinios in Santorini. The trip lasts for only two hours and upon arrival, you will realize that this day-trip to Santorini will be everything you are hoping for and more!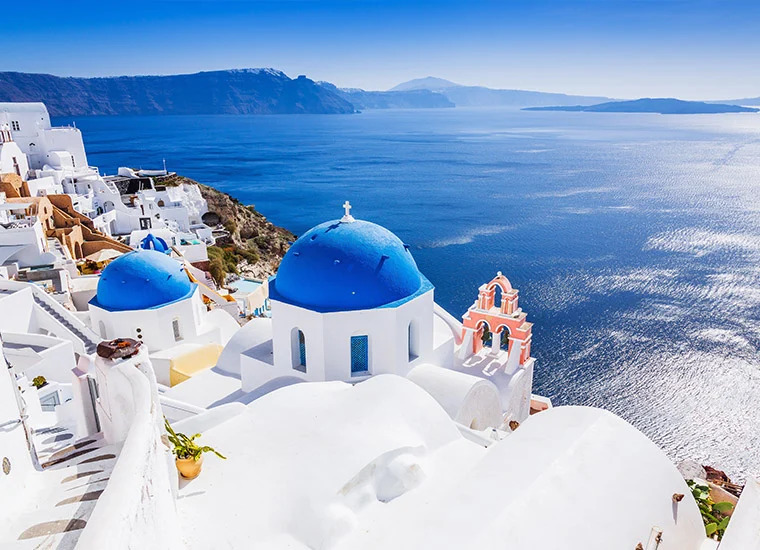 Santorini is Europe's best island and Greece's top island destination. What makes Santorini so irresistible is, of course, its magnificent sunsets but also the great antithesis created by the volcanic landscapes and the blue of the Aegean Sea. The things to do in Santorini are plenty and this means you should use your time on the island wisely.
Depending on how many times you've visited the island in the past you can choose from a variety of activities such as: a boat tour of the Caldera, a visit to the still active volcano, a stroll in Fira, Imerovigli or Oia, a swim in the Red Beach or Perivolos, a visit at the prehistoric settlement in Akrotiri, a wine tasting tour and more.
Plan your getaway from Heraklion to Santorini ahead of time!